About the SDGZINE
Collective Research and Publications on the Sustainable Development Goals
The SDGZINE is a concept from Addictlab's magazine research to create a customizable publication on the UN's sustainable development objectives.
Content is collected through partners with local or global communities. It should inspire, showcase best practices an initiate new initiatives related to the Sustainable Development Goals.
Using Addictlab's methodology of collective intelligence, the curated content will be made available in different ways: per SDG and the related targets, or using the partner's projects as navigation system.
Content
The SDGS and the Addictlab Creative Chemistry cards are the navigational system throughout the curated content as delivered by partners, schools, collaborating journalists and participants to the SDG workshops.
Distribution
Distribution of the magazine will grow organically.
PDFS available and downloadable online
hard copies available via print-on-demand websites
hard copies available at the partner locations
Partners will have the possibility to purchase extra print runs of their section of the magazine.
State of the art online workflow system:
You can follow the preparation and production of each magazine on www.addictlab.com. It starts as a project, with a project manager, linked to a creative hub (eg school). When ready the SDGzine becomes the output of that project.
Register on addictlab to create your profile, build your portfolio, join some research projects and share  your ideas.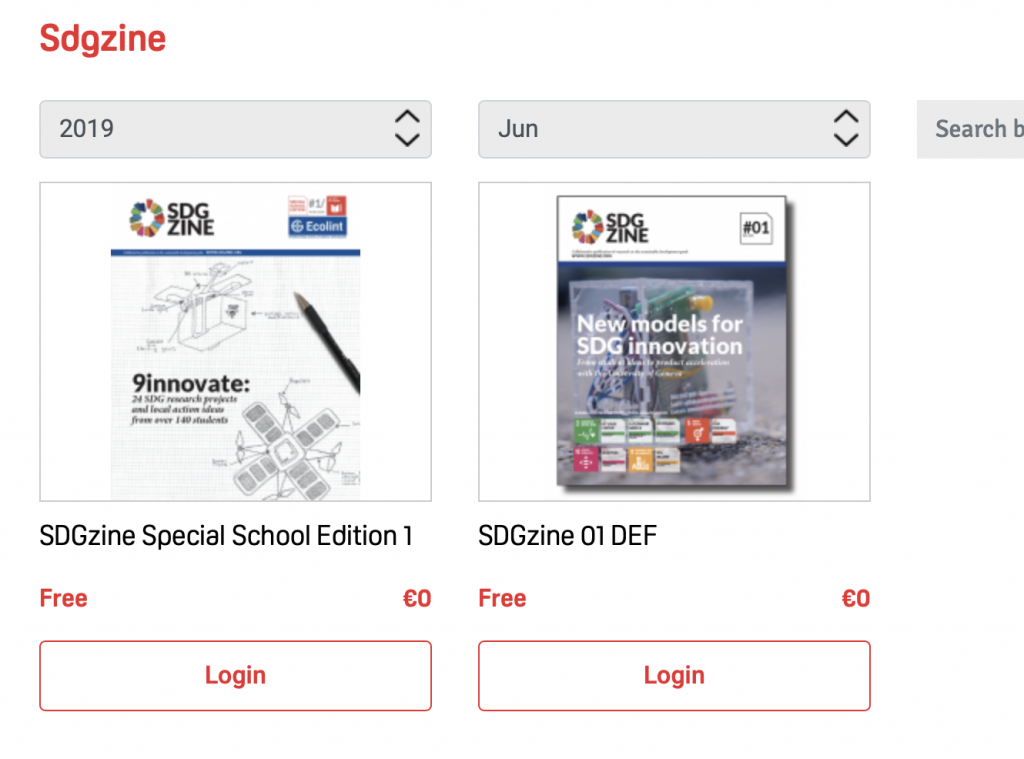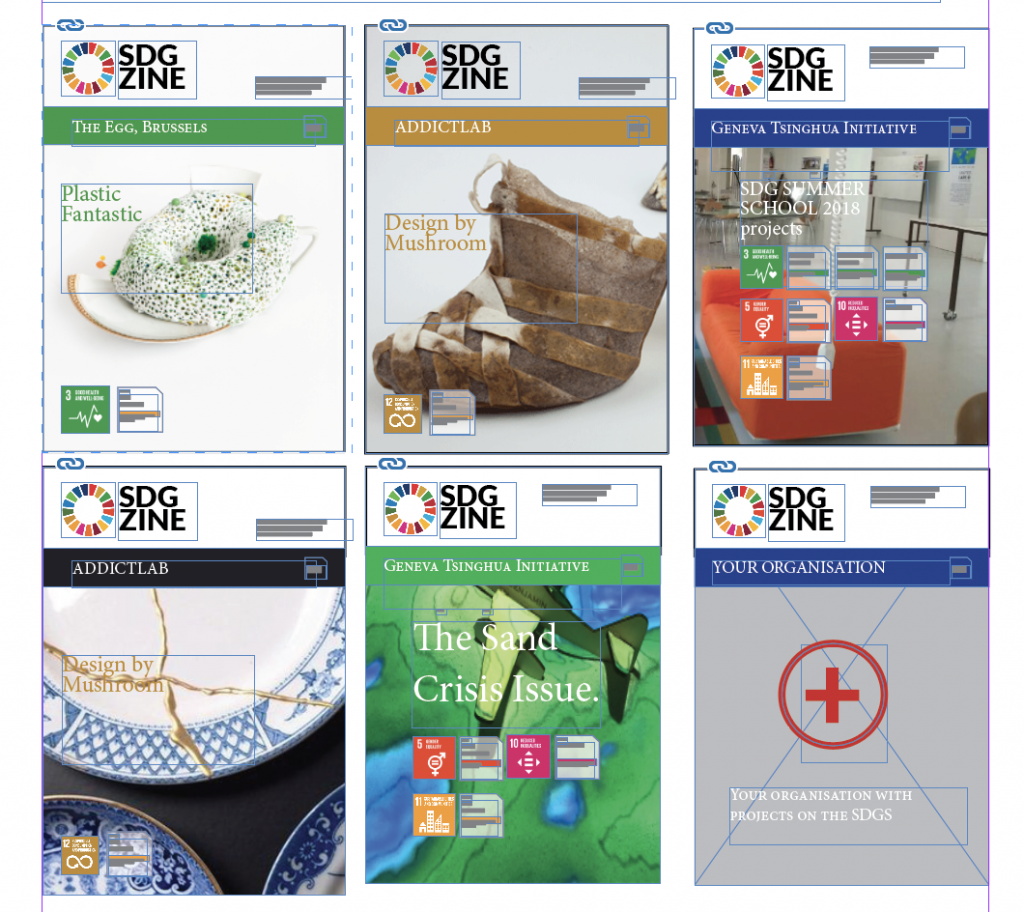 Magazine as starting point for ideas
The SDGzine is interested in ideas. It's aim is not so much to document what has been done, but to create a platform and fruitful environment to initiate new ideas. Projects at the beginning of the creative process.
Magazine as building tool for SDG eco system
The SDGzine is interested in people. Using Addictlab's crossdisciplinary profiling methodology, people become part of the ecosystem and at best will have their talent accelerated. Readers are contributors are editorial board.
Content & reason why:
Building an SDG-conscious ecosystem

Partners, people and projects

SDGS & innovation

Helping companies and organisations innovate while aligning with the SDGS

SDG acceleration

Repository of concepts from the Master program at the SDG Solution Space

 

SDGS & Fablabs

Linking makerspaces and fab labs to the SDGS

SDGS & Education

Create programs for schools to add SDGS to the curriculum

SDGS & art & design

Thought provoking concepts from artists, designers and other creative thinkers

Accelerating talent

Showcasing projects creating sustainable change

Tools & inspiration

Sharing best practices, exhibition concepts  & hands-on tools
School challenges
Are you organising SDG related challenges in your organisation or school? Are you looking for challenges for your students or people? We can provide templates for research and ideation and propose a publication of all ideas.
Normal editions.
Collaborative publication and projects based on a specific theme from different SDGzine partners.
SDGzine 00
First magazine, out January 2020.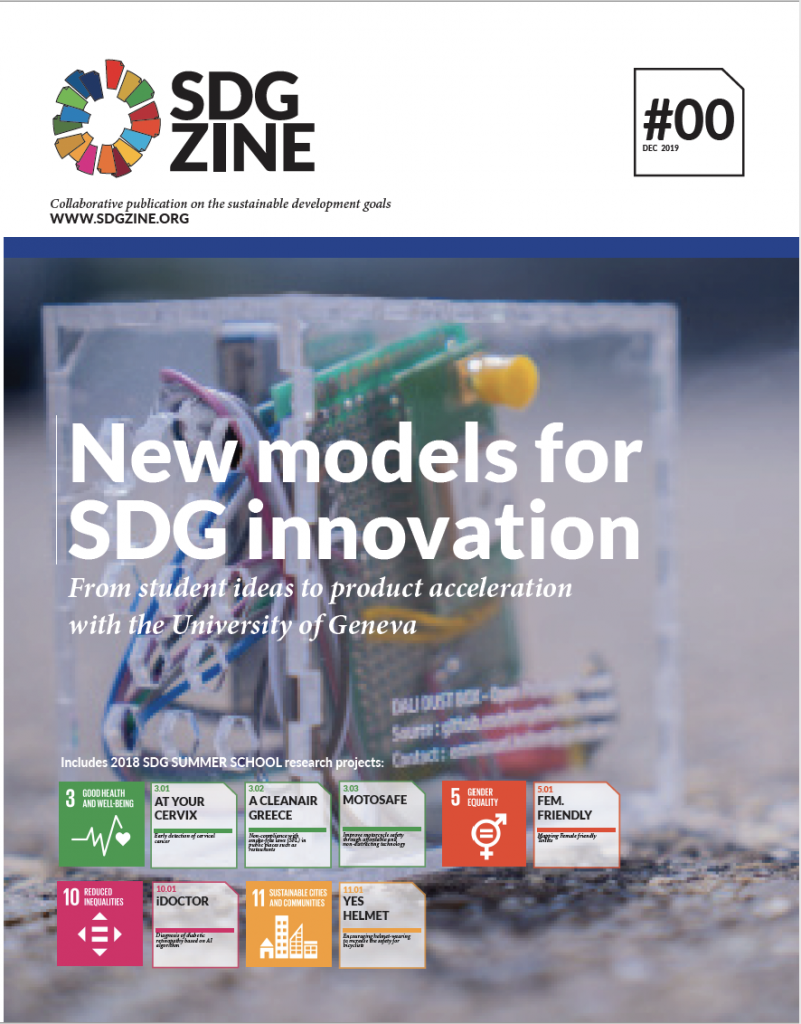 First issue on SDG innovation, showcasing the program of the Geneva Tsinghua Initiative at the University of Geneva, and works and ideas from their summer school 2018 students.
24 pages.
Available online
Hard copies available via subscription
distribution points & reading :

SDG Solution Space Geneva
AddictLab Academy Ferney-Voltaire
SDGzine 01
In preparation, out January 2021.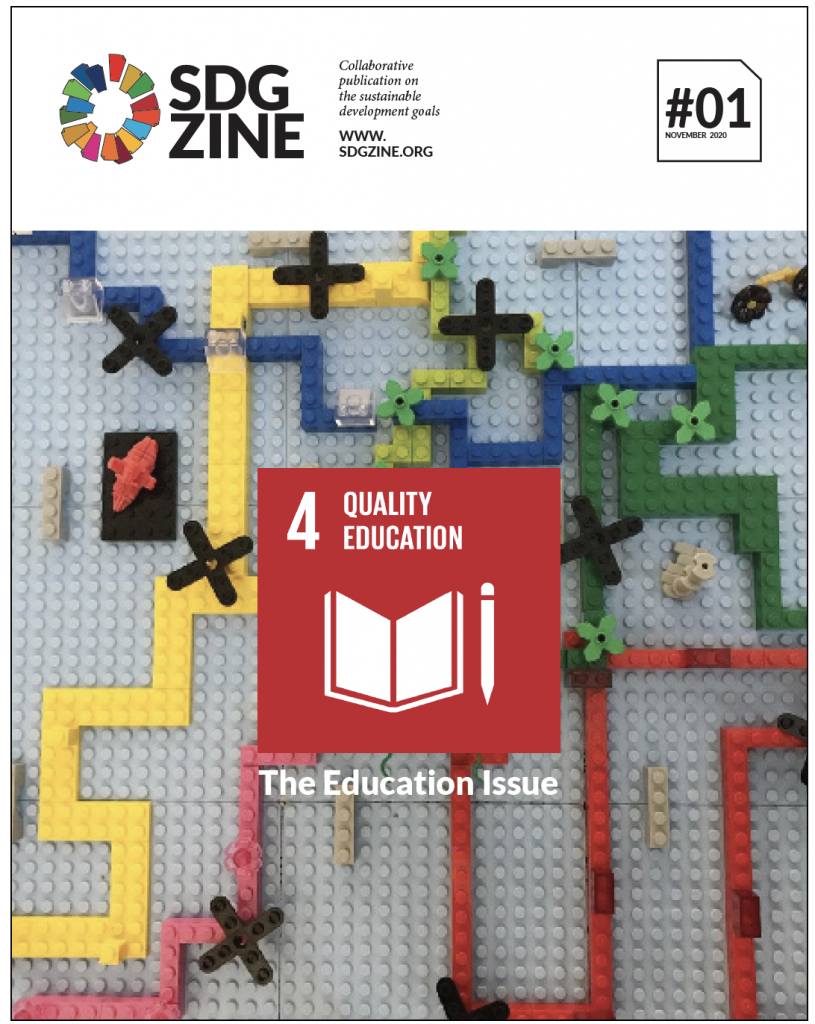 SDGzine01 tackles issues and showcase ideas and partners on how we can scale education for the SDGS. The magazine would have come out during the Open Geneva Hackaton events in March, but due to Corona postponed. In preproduction now.
Multiple stakeholders and partners.
SDGzine Special School edition
144 13 year old kids on SDG related research at Ecolint Switzerland
Over 140 students (9th grade /13y) have collaborated and thought about global challenges and local actions directly related to the SSDGs.
Collaboration with Ecolint, International School of Geneva.

SDGzine Special School edition
Summer School 2019 projects (master students GTI)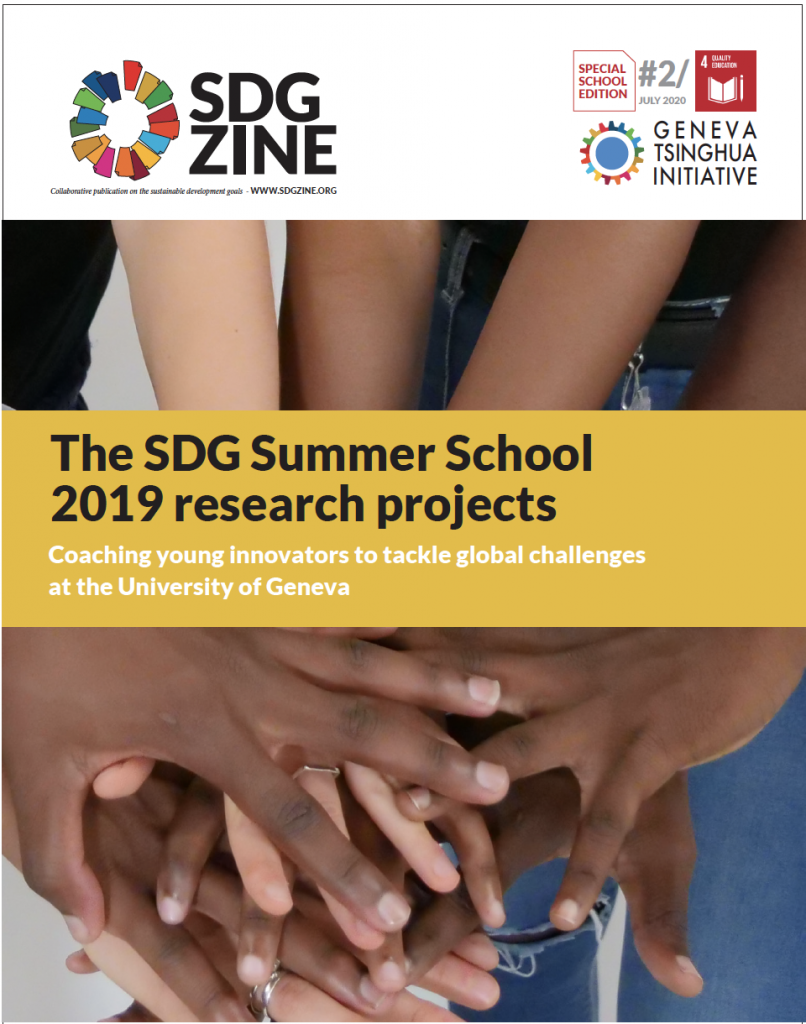 The SDG Summer School brings together brilliant minds from all over the world to tackle challenges on the Sustainable development Goals. This issue showcases the projects from 2019.
Collaboration with the University of Geneva and the Geneva Tsinghua Institute.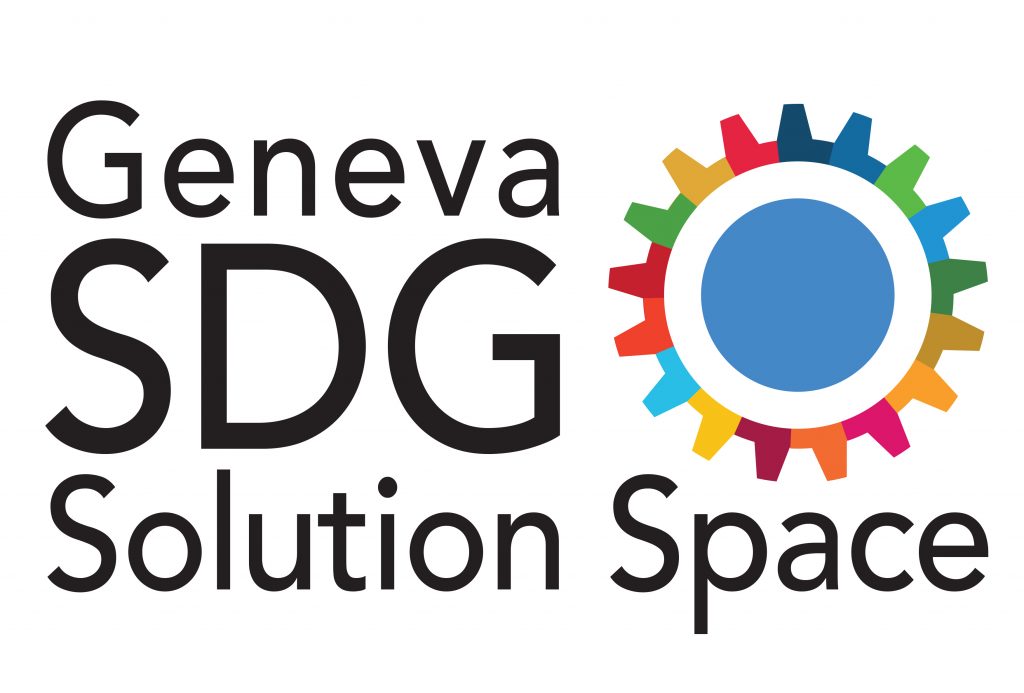 SDGzine Special School edition
Summer School 2020 projects (master students GTI)
In production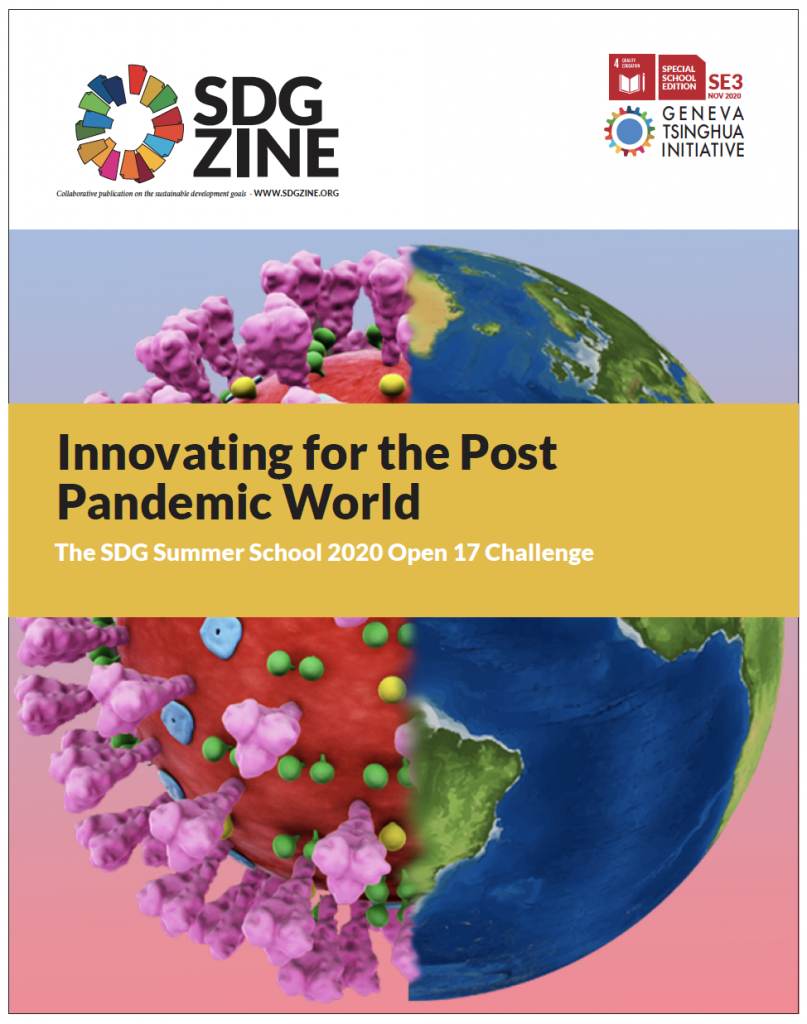 The Open Seventeen (O17) Summer Challenge is a prize-backed fully online coaching programme to reward and invest in those developing innovative and implementable projects that leverage crowdsourcing and open source solutions to tackle the 17 UN Sustainable Development Goals (SDGs). In 2020, the O17 Summer Challenge targets the Covid health crisis and the social, environmental and economic challenges that the world will face in its aftermath
Collaboration with the University of Geneva and the Geneva Tsinghua Institute.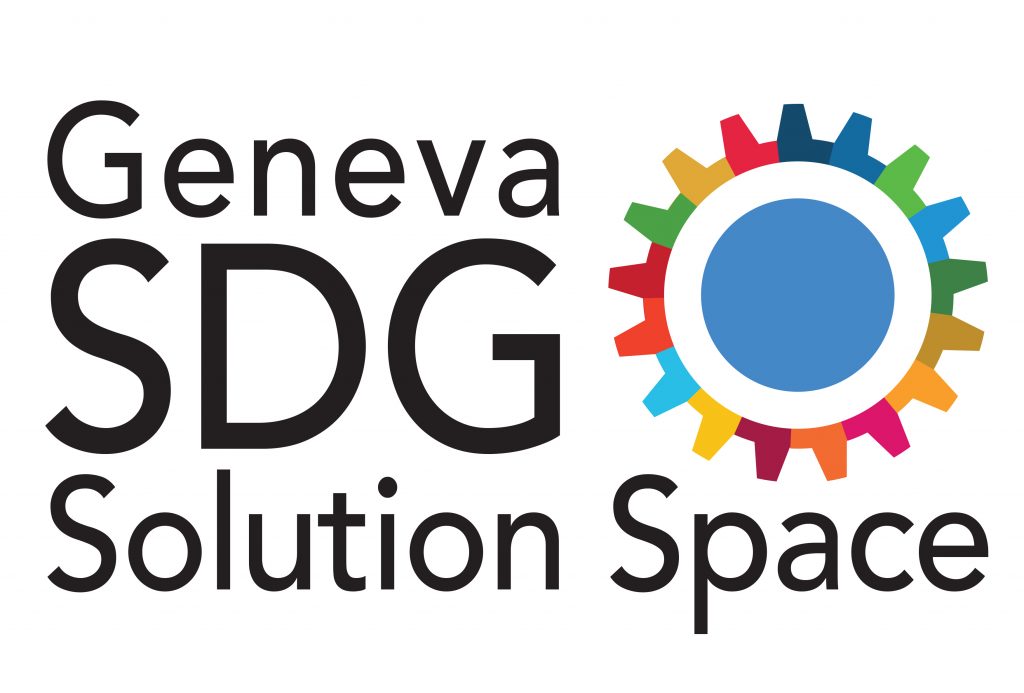 out now : SDGzine 00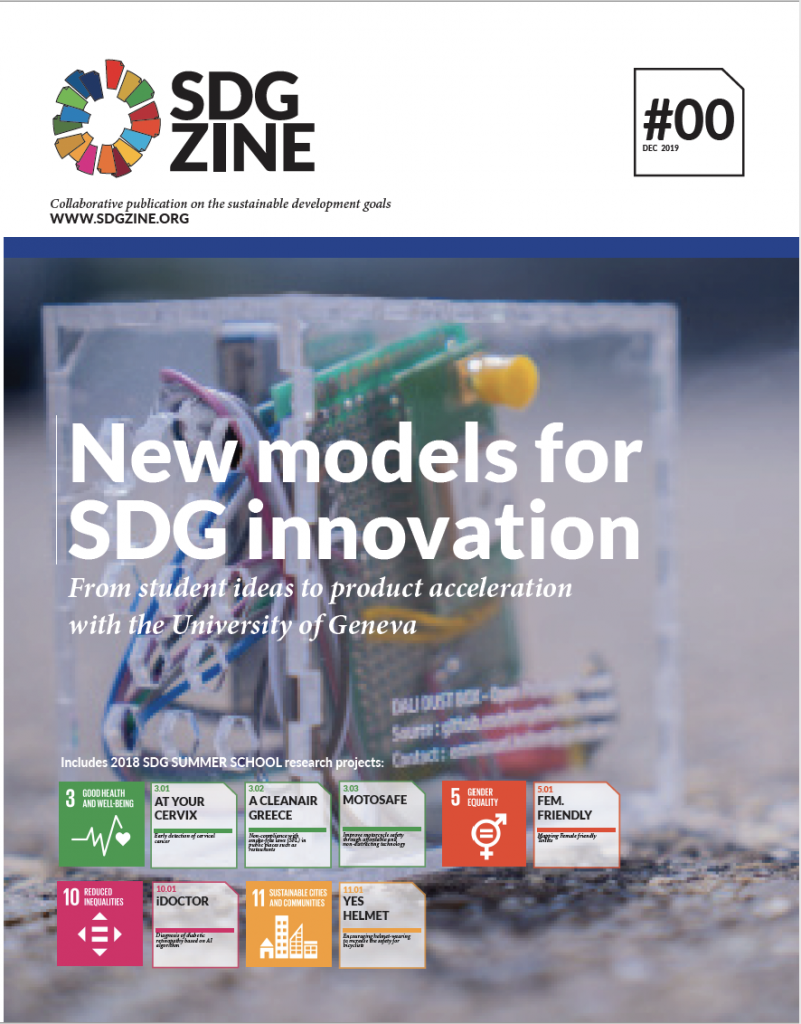 In SDGzine#00
New models for SDG innovation. From student ideas to product acceleration with the University of Geneva.
About the SDGZINE

 

Collaborative publication on the

 

Sustainable Development Goals

 

About the Geneva Tsinghua Initiative

 

and the SDG Solution Space

 

Prologue: The Open Seventeen Challenge

 

Projects Summer School 2018

 

At Your Cervix

 

Early detection of cervical cancer

 

A Cleanair Greece

 

Non-compliance with smoke-free laws (SFL) in public places such as restaurants

 

Motosafe

 

Improve motorcycle safety through affordable and non-distracting technology

 

Fem. Friendly

 

Mapping Female friendly Toilets

 

iDoctor

 

Diagnosis of diabetic retinopathy based on AI algorithm

 

Yes Helmet

 

Encouraging helmet-wearing to increase the safety for bicyclists

 

The Accelerator

 
Send in ideas
Do you have an interesting project to share?
get in contact with SDGZINE & send blurb of your idea and project
gear up your team to produce the curated magazine content.
prepare high res images in 300 dpi
English or French text (corrected)
document the creative process: first sketches, 3d renderings to decent pack shots etc.
qualitative images with artistic relevance – respect the added value of photographers, illustrators, graphic designers
respect the creative team: mention author of text, contributors
add profiles of all participants : contact details, profile pics (3oo dpi)
mention credits of each picture
add the status of your project and use the Addictlab creative chemistry cards to mention what capabilities you need to get the project to the next level
contact info@sdgzine.org for all questions
We need help
We start this magazine because we believe we have the competences to do so and it's a much needed documentation & acceleration tool for the Sustainable Development Goals. Being a  grass roots  – bottom up –  initiative, it is needless to say we need support…
Become a partner
Become a SDG writer
Become a SDGzine-school
Apply for distribution point
contact info@sdgzine.org
More SDG tools for organisations, schools and companies
SDG impact evaluation kit
Define, discuss and visualise the impact of your ideas, concept, company, brand, organisation on the 17 SDGs
Corporate Social Responsibility & SDGS for companies
The SDG Solution Space (Unige) and Addictlab can be your partners for brainstorming and innovation projects. From a superb physical location in the center of Geneva, to innovative and state of the art tools to facilitate your sessions.
SDG idea wall
17 posters to attract ideas related to the SDGS and their targets.
Creative Chemistry  kit
Collective Intelligence tool for profiling, brainstorming, ideation. 
Includes the SDG impact evaluation kit
Become an SDG Journalist or writer
Educational tool on the SDGS and the creation of the SDGZINE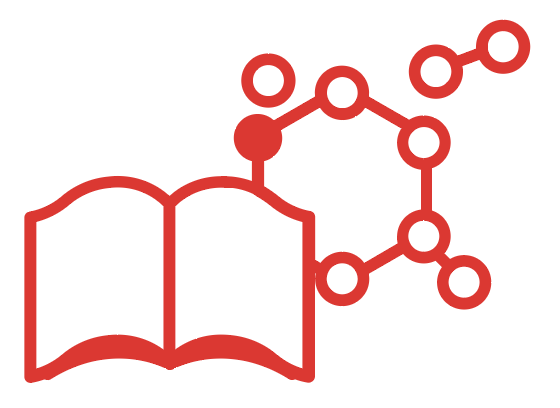 This SDGZINE.ORG is an initiative of ADDICTLAB PUBLICATIONS and partners contributing to the sustainable development goals of the United Nations. Responsible publisher : Jan Van Mol
©LAB.002 sarl, 2019  (Switzerland) – LAB.001 bvba (Belgium)- all rights reserved