Join Addictlab @ExpoJuniors: 500m2 of lab projects
For the third year in a row you can find Addictlab at the ExpoJuniors in Geneva. The fair takes place end of April (20- 21-22) and attracts over 12000 kids, families and schools, age 4 – 14. The collaboration between Palexpo and Addictlab has resulted in a huge lab environment, where kids and their parents or grandparents can learn, discover, experiment. Addictlab can tap into a list of partners, such as the IUCN (Nature Conservation), CERN, 3Doodler, Sphero and other on the booth last year.
This year we focus on even more 'lab' projects:
"innovate education" ideas, focusing on 'hands on' – tangible activities to do
navigation through the booth using Sustainable Development Goalss and creative disciplines (eg this activity is of importance on nr 3 of the SDGS)
mixing creative disciplines (eg fashion, maker space, photography, robotics, nature,…)
recycled materials as base for most activities
new: newspaper for people to take away referring to activities, partners, people, school programs
robotics programming using Addictlab's 'digitangible' methodology
fun & educational, such as: play minigolf by programming your Sphero robot
schools can register and reserve activities on Friday
educational focus: Addictlab as a model for the future of education?
collaborative projects
mixing disciplines using the addictlab creative chemistry methodology
computational thinking for robotics
tactile learning
recycling  & upcycling for thinkering projects
promote intergenerational learning by promoting teams kid/parent/grandparent
Sustainable Development Goals as navigation through the different activities
practical
all kids to wear lab jackets (to be discussed on feasibility and flow)
central info point with clear communication on what workshops when, and how long
mobile creative lab : placing the bus as backdrop of the booth : under consideration
elaborated shop concept
mainly free activities , reasonably priced when kids take something home (eg solar light, scribbling robot, ..)
confirmed activities till now
program your Sphero robot to play the mini golf course
Wood working workshops with Knock-on-Wood Geneva
Sustainable Development Goals activities with thhe United Nations Perception Change team.
Solar Led Light station (includes initiation to soldering) with LedSafari
Initiation to 3D printing with 3Doodler – print your own Lego block in wood
Thinkering : play  music using bananas with Makey Makey
VR : discover the oceans using the Virtual Reality set.
Paint your inflatable cardboard bag
Drawing in 21st century workshop (using 3D, VR, Slate, Eggbot, ..)
partner program (conditions apply)
clear signage and communication on partners, logos and their products and activities
LAB gazette: printed and online tool for free distribution on and prior to the fair
Do you have innovative activities to present? Would you like to have your brand linked to some of our innovative workshops? Or would you like to register for some of the upcoming ateliers? Follow our site, or mail info@addictlab.com
Links:
organisers site: www.expojuniors.ch
last years booth: Addictlab @Expo Juniors 2017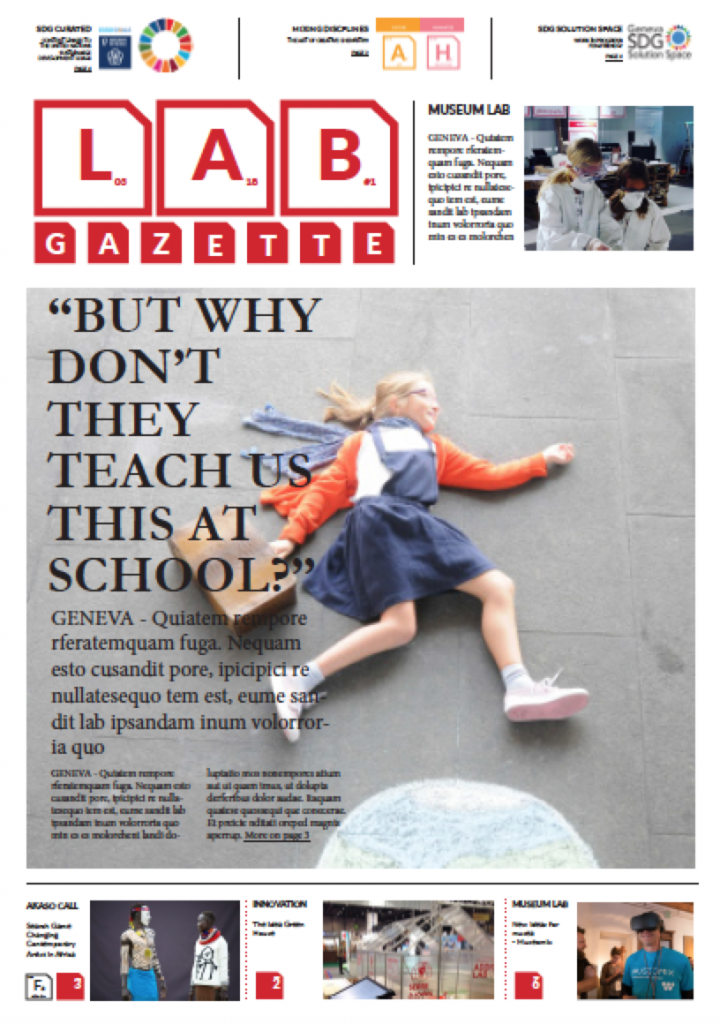 New this year – a tabloid publication for people to take home when interested in the activities, partners, brands they see. The Lab Gazette, bringing innovation and inspiration to organisations, companies and individuals, will also be available online, appear 4 times a year, and be distributed via partners, fab labs and events (work in progress)